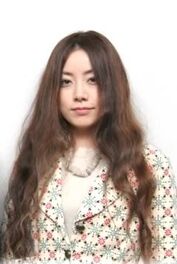 Ami Onuki (大貫亜美, Onuki Ami, born 18th September, 1973 in Machida, Tokyo) is one of the members of Japanese pop duo Puffy AmiYumi.
She has written and played songs for the band, and has co-hosted with Yumi Yoshimura (other half of Puffy) in Japanese talk shows (notable ones being Pa Pa Pa Pa Puffy, Saku Saku Morning Call and Hi Hi Puffy Bu).
Nicknamed 'Jane' in the U.S, she is left-handed and married to Teru of Japanese rock band GLAY, and has a daughter (born March 2003).
She once quoted that art was her favourite school subject, and has contributed some drawings to Puffy (a notable example being the 'Puffy the Monster' design on the t-shirts released in conjunction with honeycreeper ).
Blood type: A+
Star sign: Virgo
Height: 5'2" (or ~157cm)
Favourites: the colours green and brown; surfing; art/drawing; rings.
Habits/miscellaneous info: performs bunny-hops after a concert; wears watch on her right wrist; has asthma; currently has wavy light brown hair.
Ami has sung numerous solo songs in Puffy's career. One of two CDs from solosolo contains 7 solo tracks by Ami, and has also released solo single 'Honey ' a week before Yumi's solo single 'V-A-C-A-T-I-O-N ' in 1997.
amiyumi (1996)Edit
Usagi Channel
solosolo (1997)Edit
Onna no Ko Otoko no Ko
Love Depth
Honey
That's Sweet Smile
Be Someone Tonight
Snacks
Tadaima
JET CD (1998)Edit
Lemon Kid
Fever*Fever (1999)Edit
Always Dreamin' About You
Spike (2000)Edit
Destruction Pancake
The Hit Parade (2002)Edit
Aishuu Date
Splurge (2006)Edit
Security Blanket
Community content is available under
CC-BY-SA
unless otherwise noted.